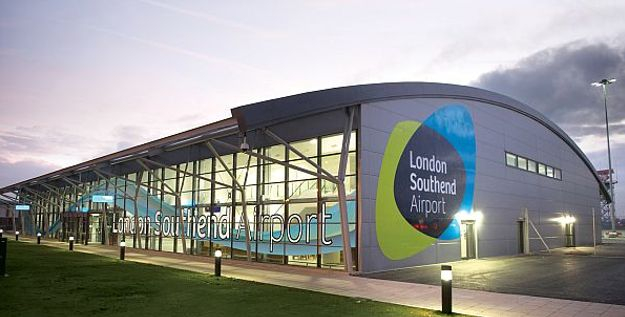 London Southend Airport Transfers: Your Gateway to Style and Comfort
Discover the ease and sophistication of traveling to and from Southend Airport with our premier taxi and chauffeur services.
London Southend Airport is a strategically positioned travel hub in Essex, England. Situated less than 40 miles from the heart of London, it offers a less congested alternative to the city's larger airports, providing a more relaxed start or end to your journey. Despite its smaller size, Southend Airport boasts a significant passenger flow, serving hundreds of thousands of travelers each year. It provides a range of domestic and European flights, ensuring that whether you're flying in for business or leisure, your travel needs are well catered for.
Historical Significance:
Established in the early 20th century, airport has played a significant role in British aviation history. It served as a key base for military operations during World War II and has since transitioned to a bustling commercial airport, while still honoring its rich past.
Commercial and Leisure Travel
In the present day, airport is a thriving point for both commercial and leisure travel. It caters to a variety of airlines and offers an array of routes, particularly to European destinations, making it a convenient choice for business travelers and holidaymakers alike.
Strategic Location
Located in Essex, just 36 miles east of Central London, airport is an attractive alternative to London's larger airports. Its position allows for easy access to the capital while avoiding the intense traffic of the more central hubs.
London Southend Airport to City Center: Transfer in Style
When you land at Southend Airport, the journey onward should be as prestigious as your destination. Choosing our chauffeur service over a standard taxi service elevates your experience from the very first mile. At London Airport Transfers, we understand that after a flight, whether you're arriving from Heathrow Airport, Gatwick Airport, Stansted Airport, or even closer hubs like London City Airport, the transition to your next location should be seamless and sumptuous. Our fleet of Mercedes S, E, and V Class vehicles stands ready to deliver just that.
With a simple booking process, our airport taxi transfers offer a touch of elegance that commercial taxis can't match. Whether you're traveling for business or pleasure, our chauffeur-driven cars ensure that every moment of your journey is as refined and relaxed as you deserve.
Southend Chauffeur Excellence: Your Gateway to Sea and Style
When you choose our Southend chauffeur service, you're not just booking a ride; you're unlocking the door to a travel experience that epitomizes elegance and efficiency. Our Southend airport taxi transfers are designed to provide more than just transportation; they offer a journey that's as memorable as the destination itself. Whether you're soaking in the coastal charm of Southend on Sea or preparing for a business engagement in Greater London, our airport cars provide an unparalleled level of luxury and professionalism. With SA Executive Airport Cars Southend, every trip is tailored to your preferences, ensuring that whether you're picked up from the airport or touring the surrounding areas, your travel needs are met with the highest standard of service. Book your Southend airport chauffeur today and embark on a voyage where style, comfort, and reliability sail in unison.
From Southend Airport to any destination: Choose the Best Airport Transfer Company
With our Southend airport taxi service, you can travel in style and comfort, whether you're heading to central London or making connections to major hubs like London Heathrow, Gatwick, or Stansted airports. Our Southend airport chauffeur service provides a reliable and professional experience, ensuring that your journey to or from any London airport is seamless.
Our executive airport car chauffeurs are well-versed in the nuances of UK travel, offering a luxurious alternative to your typical London taxi. With a fleet that includes high-end airport cars, we cater to those who need an airport transfer that promises more than just a taxi ride—it promises an experience. Whether you're booking a Southend airport minicab for a quick transfer to London Luton, planning a trip to London from Manchester Airport, or arranging a taxi to Southend Airport for a departure, our service is designed to offer the best airport transfers in Southend and the surrounding areas.
For those seeking an airport transfer company that operates with the utmost professionalism, look no further. Our Southend airport taxi transfer service is not only about getting you picked up from the airport; it's about ensuring that your transfers transport you to your destination with ease and elegance. From the moment you book your Southend airport taxi, expect nothing less than the best price, punctuality, and a journey that encapsulates the essence of traveling in style. Whether you're flying in from Aberdeen, Birmingham, Liverpool, or any other location in the UK, our transfers from Southend are a testament to our commitment to excellence in airport taxi
Conclude your travel plans with a touch of elegance;
choose our Southend airport taxi for a final note of luxury and reliability.
Frequently asked questions:
What distinguishes London Airport Transfers' chauffeur service from other airport taxi services at Southend?
Can I book a Southend airport taxi transfer to London Heathrow with London Airport Transfers?
What types of vehicles does London Airport Transfers have in its fleet for Southend Airport services?
Is it possible to book a Southend airport chauffeur with London Airport Transfers for a trip to London Luton or Manchester Airport?
Why should I choose London Airport Transfers over local taxi services for airport transfers in Southend?