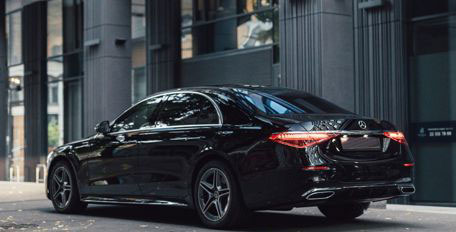 Hire a driver for the day in London
Hiring a chauffeur means more than just traveling from point A to B; it's about the quality of the journey. It's about sitting back in a luxury vehicle, like the high-specification Mercedes S Class or V Class, and indulging in the peace of mind that comes with knowing every detail is catered for. From the moment your chauffeur greets you, be it at the airport for a transfer or at your hotel for a day of sightseeing, you're in capable hands.
The Benefits of Chauffeur Hire Over Public Transport and Taxis
When visiting London, the choice of transportation can make or break your experience in this historic yet ever-pacing city. Opting for chauffeur hire presents a multitude of benefits over the usual public transport and taxis. Imagine the ease of gliding through the streets in a chauffeur-driven Mercedes, not just any car, but a symbol of luxury and class. Unlike the unpredictability of a taxi or the crowded conditions of public transport, a private chauffeur offers a seamless, relaxed journey, allowing you to sit back and relax or prepare for your upcoming meetings in peace.
With a chauffeur service, you're not just hiring a car; you're securing a premium experience. Your private driver is not only trained in safe and efficient driving but also in understanding the nuances of customer care. This means punctuality is guaranteed, your itinerary is catered to your specific needs, and any luggage you have is handled with care. Moreover, the premier vehicles provided, such as the high-specification Mercedes S Class or V Class, ensure a level of comfort and style that taxis and public transport cannot match. Whether you're in London for a day of sightseeing or a business trip, hiring a chauffeur elevates your experience, ensuring that every journey is as exceptional as your destination.
Choosing Your Vehicle: The Luxury Fleet at Your Disposal
When it comes to selecting the perfect vehicle for your day in London, the luxury fleet at your disposal is second to none. At the heart of our prestigious collection are the Mercedes E-Class, S-Class, and V-Class models, each offering a unique blend of comfort, style, and performance to serve to your specific needs. Whether you're booking a conveyance from any place or planning a full day's itinerary across London, these vehicles represent the epitome of luxury travel.
Planning Your Day with a Private Driver
When planning a day in the heart of London, the luxury of a private driver offers an indulgent escape from the stresses of navigating the city. Opting for a chauffeur-driven car, such as the prestigious Mercedes S Class or E Class, ensures you can enjoy the sights of central London from the comfort of a luxury vehicle. Whether you're scheduling a full day of meetings, embarking on a bespoke sightseeing tour, or simply require punctual airport transfer, a private chauffeur service provides a seamless, relaxed experience. With a private car hire, your itinerary is tailored to your needs, allowing you to maximize your time in London's dynamic expanse, all while ensuring you arrive at your destinations promptly and in unparalleled style.
Hire a driver for the day - Executive Chauffeurs for Business and Corporate Roadshows in London

When orchestrating a business trip or corporate roadshow across London's dynamic landscape, the services of an executive chauffeur become indispensable. With a fleet of high-specification luxury vehicles at your disposal, including the prestigious Mercedes S-Class, you can rest assured that your transportation will reflect the first-class professionalism your company upholds. Our experienced chauffeurs are adept at navigating the bustling city to ensure you and your potential clients arrive punctually and in style to every appointment. By choosing our executive chauffeur service for your roadshows, you're not just booking a car; you're securing a seamless, luxury experience that goes the extra mile to meet your business needs.
Special Occasions: Arriving in Style

For those special occasions that call for an extra touch of elegance, arriving in style is paramount. With our luxury chauffeur-driven cars, including the prestigious Mercedes S-Class, you can rest assured that your arrival will be nothing short of grand. Whether it's a romantic evening in central London, a VIP shopping trip, or a significant business event, our professional chauffeurs are at hand to ensure you reach your destination punctually and in utmost comfort. At London Transfers company, we go the extra mile to make your significant event memorable, providing pristine vehicles and a seamless, luxurious experience that serves to your every need.
Going the Extra Mile: Additional Services Offered
Our professional drivers go the extra mile, offering complimentary waiting time to accommodate your schedule and providing assistance with luggage to make your journey as seamless as possible. Whether you're in town for a business trip, a special shopping trip to central London, or simply wish to indulge in a luxury scenic excursion, rest assured that our executive chauffeur service is designed to serve your every need.

Why "London Airport Transfers" is Your Perfect Choice
Choosing "London Airport Transfers" for your transportation needs in London means opting for punctuality, luxury, and exceptional service. Our fleet of high-specification premier vehicles, including the prestigious Mercedes-Benz, ensures a journey that's nothing short of first-class. Whether you're in need of a private driver for a full day of meetings in central London, require a chauffeur for important meetings, or simply desire a stress-free transfer, our professional chauffeurs are at hand to ensure your trip will proceed with best experience.
With "London Airport Transfers" - your ride will be pristine, your experience VIP,
and every detail of your trip managed with the utmost attention.
Frequently asked questions:
What sets your company apart from other chauffeur services in London?
Can "London Transfers" accommodate special requests for occasions like business roadshows or VIP shopping trips?
How does "London Transfers" ensure a stress-free travel experience for their clients?